With the major changes the world has seen since the beginning of COVID-19, it was clear to us that we had to adjust in order to best assist families and individuals living with dementia. Therefore, we began to work hard on creating opportunities to still connect and support. Virtually was the only way to go!
View our Virtual Socialization & Cognitive Stimulation Sessions PDF
Click here to learn more about our specialized Virtual Socialization & Cognitive Stimulation Sessions for individuals living with symptoms of dementia.
Upcoming Events for Anyone
Karen Tyrell
Karen Tyrell, CDP, CPCA, CDCP is a Canadian Dementia Consultant & Educator. She is the author of the book, Cracking the Dementia Code - Creative Solutions to Cope with Changed Behaviours. She has extensive education and front-line experience of over 25 years working with seniors, especially those living with dementia.  Karen also supports families by offering 1-1 support or group sessions. Learn more about Karen here.
Karen is offering Virtual Caregiver Support Sessions at no cost on the last Monday of each month at 2pm - 3:00pm.  Please view the calendar below for more details.
Kathy Afshin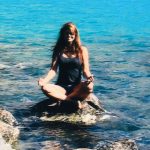 I was an extremely active kid that lead me to become athletic in my school years. Later on, I decided to become a physical education teacher, which allow me to physically active on the job, as I could have never seen myself to have an office job with no physical activities. In my thirties, as I became more and more interested in spirituality I learned Yoga, which in my opinion is the best combination of meditation and workout. I have practiced different types of meditation, such a transcendental meditation, and Vipassana. In 2010, I have completed my 200 hour Yoga instructor certification at Sivananda school of Yoga and since then I practice and teach privately Hatha and Vinyasa yoga. For me as a PE teacher, teaching yoga is more about the internal spiritual journey in each workout pose. My practice has evolved, unfolded, and continues to do so with daily practice.
The joy of sharing this experience is tremendously satisfying therefore I would love to share this journey with you.
Kathy Afshin Yoga Teacher with 10 years of experience.  Kathy is offering Virtual Yoga sessions to all families and seniors on the 2nd Thursday of each month from 3:00pm - 4:00pm. Please view the calendar below for more details.
Michelle Theresa Tremblay, PID
Michelle Theresa Tremblay, PID is a Bully Prevention Trainer/Keynote Speaker Health & Wellness MPowerment Coach. Michelle has worked with over 15,000 participants from young children to seniors mentoring, training, coaching, speaking and teaching through various elementary, middle, high school, and college locations non-for-profit agencies. Her passion has extended to the workplace with clients such as Van-City, WorkSafe BC, Credit Unions, and many other Corporate clients.   She is a certified 2nd Degree Black Belt with 18 years of Karate training; a yoga and qi-gong instructor for mental health and physical wellness.
Michelle is offering Virtual Easy Practice of Qigong Movement on the 3rd Tuesday of each month from 11:45am - 12:45am. Please view the calendar below for more details.
Nadine Jans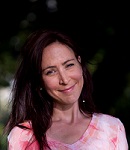 Nadine Jans is a registered clinical counsellor in Canada and a psychologist in the Netherlands. She has gained over 15 years of experience helping individuals living with dementia, family caregivers, and professionals with depression, anger, overwhelm, and complex situations, to significantly improve their relationships, behaviours, and moods.
In her work as a research participant at Zuyd University in the Netherlands, she co-created a handbook for clinicians to increase participation of people with dementia in health care. After years of work and study, she discovered powerful strategies, insights, and tools, which led her to develop the Experience-Centered Care with H.E.A.R.T. Methodology™, a cutting-edge, step-by-step framework that enables people with dementia, family caregivers, and professionals to significantly improve behaviours, moods, and relationships and experience more inner calm and meaning.
Her work reached a deeper level after receiving training from Dr. Daniel Nightingale, PhD, in hypnotherapy for people with dementia, and she is now seeing even more powerful results in helping individuals with dementia find more calmness, meaning, and joy in their lives. Nadine has personally experienced how life is affected when a close family member develops dementia, and she is on a mission to end the overwhelm, guilt, loneliness, and frustration for individuals and families living with dementia.
Dr. Niloo Chitsaz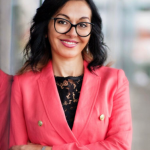 Dr. Nilo Chitsaz MD, is a family physician who has been always interested in the field of holistic medicine and aware of mind/body/spirit connection. She has helped her patients to understand the importance of their emotions, past traumas, and subconscious patterns, to shift their thoughts and eventually behaviours. Her main interests are cultivating a daily meditation practice, breath work, and mindfulness to bring more presence and peace into her life, and the people she works with. Having gone through her own challenges has made her compassionate and caring especially towards vulnerable people and she believes we all have access to a greater source of energy.
Dr. Nilo is offering Virtual Mindfulness Base Stress Reduction on the last Thursday of each month from 11:00 am – 12:00 pm. Please view the calendar below for more details.
Marissa Stalman, BSN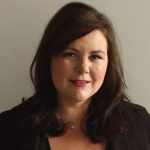 As a former Care Aide and Registered Nurse, Marissa has gained invaluable lived experience working alongside persons living with dementia (PLWD). Soon to complete her Master's Degree from Simon Fraser University's Department of Gerontology, Marissa has devoted hundreds of hours to studying and researching this progressive illness. She is a published author and, more recently, was invited to join an "Expert Task Group" with the BC Centre for Palliative Care—assisting with an innovative project intended to benefit PLWD.
Marissa is passionate about improving care for persons living with dementia and dedicated to enhancing supports for their families, friends, and care partners.