Adult Cognitive Wellness Program Wins
"Outstanding Support" Award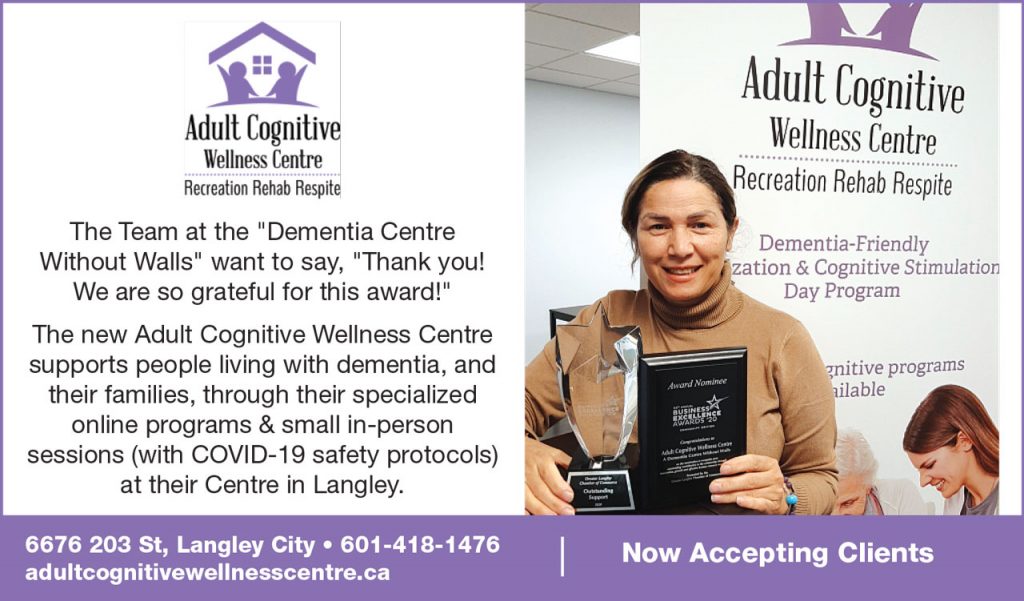 New Langley Adult Cognitive Wellness Program Wins
"Outstanding Support" Award from the Greater Langley Chamber of Commerce
Despite the pandemic, the new Adult Cognitive Wellness Centre continues to support families and people living with symptoms of dementia through their online programs and are now providing small in-person sessions with COVID-19 safety protocols at their Centre in Langley.  The Centre has been dubbed a Dementia Center Without Walls as a result of their positive outstanding feedback for their virtual sessions and support. This specialized kind of support has made a huge difference for families caring for someone affected Alzheimer's disease and other types of dementias, especially during the pandemic. They are accepting new clients now for both their in-person and virtual programs.
Owner and operator Massi Bakhshian, BSc., RN, who has been the Clinical Director of Safe Care Home Support, has been helping seniors and families with services at home the lower mainland for the past ten years. She shares, "We are so grateful for this award recognition!  We felt we needed to do something…we just couldn't leave the families all alone out there during the pandemic!" 
The Socialization & Cognitive Stimulation Sessions for individuals in mild-moderate stages of dementia have created a positive impact in the lives of their clients.  Families in BC and other provinces have reported how pleased they were to have an hour off while their family member was on the Virtual Session, allowing them to take a moment of respite for themselves. One Resident in a care home confined to his room looks forward to his weekly connection with Amy, the Virtual Programs Coordinator. Registrations are ongoing for all their programs.
A free monthly online support group is also available for the family caregivers. This group will be facilitated by Karen Tyrell, a dementia consultant, educator and author who has over 10 years of experience facilitating live and online groups support meetings for family caregivers in the lower mainland. Karen was also involved in the design stage of The Langley Village – the first true dementia village in Canada. 
Other free online sessions include:
An Online Dementia-Friendly Café for both caregivers and the person with dementia – Weekly on Thursday afternoons. 

A Mindfulness Based Stress Reduction – weekly for family caregivers on Wednesday afternoon. This session will include yoga and meditation by an experienced facilitator. 
According to the Alzheimer Society of Canada, over 500,000 Canadians are living with dementia today and 25,000 Canadians will be diagnosed with dementia every year. 
Free Upcoming Events: In partnership with the BC Centre for Palliative Care, The Adult Cognitive Wellness Centre is hosting some free online Advance Care Planning Sessions for individuals in early stages of dementia and their care partners. A 2-part info series is happening on Nov. 18th & 25th at 10:00am – 11:30am.
Visit www.AdultCognitiveWellnessCentre.ca to see the full list of their Virtual and in-person programs at the Centre. 
To ask questions or to sign up for any of our programs and services, please contact  (604) 655-0535  or email info@AdultCognitiveWellnessCentre.ca 
For further information, please contact:
Massi Bakhshian, RN
Adult Cognitive Wellness Program
6676 203rd Street, Langley, BC,
Phone: (604) 655-0535
Virtual program: (604) 781-7060
Website: www.AdultCognitiveWellnessCentre.ca
Email: info@AdultCognitiveWellnessCentre.ca or info@SafeCareHomeSupport.ca
Adult Cognitive Wellness Program Wins "Outstanding Support" Award